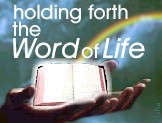 For where two or three are gathered together in my name, there am I in the midst of them.  Matthew 18:20
In accordance with New Testament principles, we are a group of Christians who meet together for worship, prayer, and Bible study. In addition, we are active with a Sunday School and in spreading the Gospel of Jesus Christ. We have met as a local church for over 100 years (since 1907) and seek to serve both God and the community.
We desire to provide a warm and spiritual atmosphere in which you can find eternal and lasting peace through faith in Jesus Christ. For those who are believers, we encourage spiritual development and growth through Bible study and teaching.
We place great value on families. The future of children is vitally important to us; we strive to supply relevant moral training and spiritual guidance for young people.
You and your family are cordially invited to attend our services. They are conducted in an orderly fashion with reverence for God and the Holy Bible. No public collections or appeals for funds are ever made.
We're glad you stopped by. If you have any queries or would like to know more, please feel free to contact us. After you've looked around our site, why not come and visit us? For a first-time visit we recommend you try the Gospel Meeting on Sunday evening at 5.00pm.